The BG951A-GL is the Sony Altair platform evolution from Qualcomm BG95-Mx modules, and are designed to be as compatible as possible in HW and AT commands. If you have used BG96/BG95 kits then there are some important differences to BG951A-GL.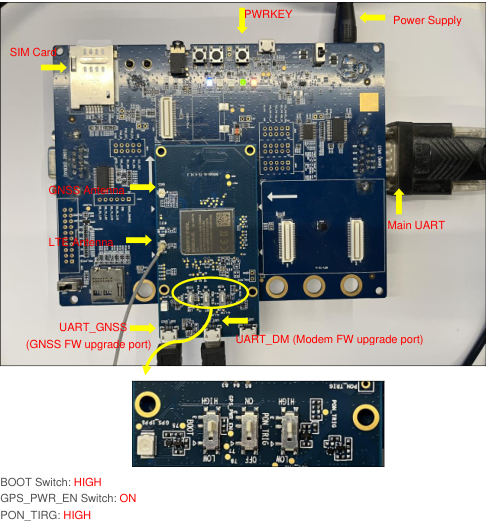 The BG96 and BG951 allow for cellular data and GNSS concurrently.
BG951 (compared to BG96/BG95-Mx) has some different configuration commands in relation to the Altair baseband platform.
For migration of existing devices/designs from BG96/BG95 to BG95xA-GL, be aware that the PON_TRIG pin functionality was optional before, but now it is mandatory for power-on/off and PSM operation. Your design may need to route this pin to MCU control.
For detail list of differences, see Quectel_BG95xA&BG9x_Series_Compatible_Design_V1.0.pdf
The EVB Setup:
The BG951 requires at least 3 cable connections to the EVB and carrier board (TE-A) combination. See Quectel_BG950A-GL&BG951A-GL_TE-A_User_Guide_V1.0.pdf for general connection and setup.
On the main EVB board there is USB or 5V power to this board switched at S201, and the main AT commands via the COM1 (MAIN) serial connector.
On the carrier TE-A card there is the module, and UART_CLI port for upgrading, and UART_GNSS for GNSS AT commands and upgrading. One of these ports should be connected to provide power to the TE-A board.
In normal operation of cellular connection + GNSS, 2 switches are high (PON_TRIG, GPS_PWR_EN), and 1 switch is low (GNSS_BOOT)
Operation of the GNSS
See Quectel_BG770A-GL&BG95xA-GL_GNSS_Application_Note_V1.0.0_Preliminary_20220211.pdf
For easy testing, set AT+QGPSCFG="gnss_mode",2 //Select mode to input GNSS AT commands via main AT port, and GNSS commands via UART_GNSS port. Power cycle afterwards for any changes to take effect.
Do not connect the GNSS antenna that comes with the EVB kit – this is active antenna. Connect a passive GNSS antenna via UFL, you will have to source this yourself.
For the operation mode: AT+QGPSCFG="gnss_mode",2 open another terminal window connected to UART_GNSS, then enter in this window: AT+QGPS=1 //Start the GNSS operation.
You should see the NMEA sentences output here. Also enter further GNSS AT commands in this window.